Happy Monday everyone!
First of all, as always - a few house keeping items:
If you're NEW here (and there've been a lot of new additions to the party!) I'm working on creating some tutorials to help you out. You can click on the links above or: See "Getting Started" and "Tutorials"
To see all the past weekly challenges - click the tab above, or follow this link

Please grab the button for the Weekly Challenge (on the right sidebar) to display on your blogs!

share the fun!

The limit of submissions to the slideshow is TWO, but please feel free to post as many as you like to your blogs. I will take the first two presented to each challenge.
and i want to say a very extra special big heart felt thank you to everyone who donated funds. I continue to be amazed by the generosity of spirit of this wonderful community. HUGS!
Hello everyone!
i'm sorry, we are all still sick here. Artoo especially. we are on round the clock Artoo-supervision to keep him at home and out of the hospital.
It's been a trying week.
thank you to everyone who participated in last week's Moebius Challenge!! the work is stunning.
The Harms Crew - wearing purple for Artoo!
i love this.
Thanks to everyone who wore purple to spread awareness, we really appreciate it.
Weekly Challenge #104: String Theory v. XXIII - TanglePatterns String #003"
I apologize in advance, i admit - i'm sort of phoning this one in this week. Thank you for hangin' in there. I've not been well for over a week now, and i'm hoping it clears up soon... my brain feels a bit foggy still.
For all you newcomers, if you've never heard of
TanglePatterns.com
, let me be the one to introduce you! This is a FABULOUS website run by Linda Farmer, who is also a Certified Zentangle Teacher (or CZT) and this is one of (if not THE) most comprehensive Zentangle resource on the web. It's wonderful.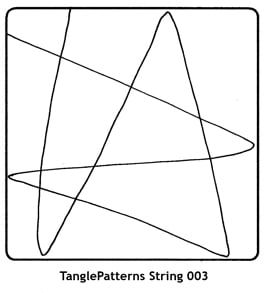 In addition to posting directions and step outs to tangles, she has been amassing a wonderful collection of strings to draw inspiration from, which is what i'm doing today.
This week's challenge is to use String #003 on your tile or Zentangle Inspired Art. follow
THIS LINK
to see the string on her site.
i'm too lazy sick to scan this, so i took a pic with my phone, hence the yellow...
Thanks for all the get well wishes!!
have a great week!
If you have a blog, add the

site-specific URL

where your tile is posted to the linkey machine below! Don't forget to link back here so that others can join in the fun! (if you don't know how to find this, you can see my half assed tutorial here)

Also, please feel free to come back often and visit the links of those people on the linkey machine - don't forget to leave a comment or feedback, everyone loves feedback. ;)

If you don't have a blog but still want to participate, you can email your tile to me and i will post it here. (See the contact tab above for my email address). The deadline for each weekly challenge is Saturday night so that i can round everyone up by Sunday. What this means is that i will stop adding tiles to the slideshow on Sunday. You're still more than welcome to do the challenges and add your name to the linkey machine.
I will be more diligent with the linkey machine - by editing out the ones that don't work, the doubles, the links that lead to nowhere, the links that go just to blog home pages (this is why we need those site specific urls), and the spam. And there is some spam. PLEASE do not put your *home* page in the linkey machine... please? for me??